News
December 1, 2019 We are sorry to announce death of our best friend - Australian Cattle Dog, called "Dort" ("Cake" in English). He was really sweet, but not for the strangers or intruders. Them, he made taste fear and respect.
May 28, 2014 On May 20, The First Spring Day foaled a brown colt.

March 16, 2014 Our mare Emily has got a nice filly. It was born on March 11.

July 29, 2013 We have got two new male babies. One was born on May 20, the other one on July 6. Both of them are for sale.

August 22, 2012 When the summer days are very hot, our horses love bathing. The foals know very well, that water is fine.

July 3, 2012 Our broodmare Im Not Q Less foaled on June 27 a well muscled filly. She has got funny socks - three of them are white and one is black.

May 23, 2012 Our new beautiful and skilful colt was born on May 18, 2012. He was named AHR Crazy Joy.

February 5,2012 New pictures in our photogallery.

September 9, 2011 There were nice weather and very good atmosphere at the Pardubice Exibition. we were represented by horses Crazy Legs Luck (stallion), The First Spring Day (mare) and AHR Children's Day (their offspring) as we had planned. Such a "normal Appaloosa family". If you like, you can see more pictures in section photogallery/ze zavodu a akci.

July 15, 2011 Two months awaited foal was born yesterday! The new filly suits to her history - she is BW.

July 3, 2011 The last day in June, we went for a very long journey leading under the hill Rip in Central Bohemia. There she was waiting for us - Emily, our new broodmare. She was brilliant with getting on the trailer, going by it so long way and even staying in new surroundings. It is very positive, that she is attractive to our horses. Peek at the pictures:

June 1, 2011 The first foal this year out of The First Spring Day was born on the Children's Day. It is a colourful colt.

May 28,2011 We have put some new pictures to our photogallery. Have a look!

May 25,2011 Another this year 4-year old mare, Crazy x Vicky's daughter, named AHR Crazy Ash looks like an elegant dame :o).

May 16,2011 This year 4-year old mare, Crazy's daughter, has got nice colourful coat. In the first picture, you can see her as a yearling. The other pictures were taken just few days ago.

May 1,2011 A new stud mare is coming to our herd, that is why we offer a quick sell price for AHR Crazy Eye, just EUR 2.000.

April 17,2011 We offer A SPECIAL STUD FEE for FPD mares.

March 26,2011 On March 16, the two little white kids (baby-goats) were born :o). They have good health and vitality.

March 11,2011 There are some new pictures of Crazy, Vicky (Im Not Q Less), Springy, Honey and their dog friend Dort added to our photogallery. You can find something new also in the section "photogallery/koně/ostatní". So have a look.

February 10,2011 Look at this 2-years old filly, her name is AHR Crazy Day and she is coming to be a very nice mare.

There are added some new winter pictures of horses in our photogallery.

»Yaerlings sale! The colt AHR Crazy Forenoon 50% off, the filly AHR Crazy Eye 20% off.«

The spring is coming and also new foals were born. They are two fillies. The Delassi's one was born on March 29, 2010 before midnight, and the Vicky's one on April 3, 2010, before noon.

The goat Apolenka has got two kids - male and female. They had hard beginning of their lives, they were born on January 28, 2010, in -20°C. However, they are healthy and O.K.

»Foals of 2009 for sale.« With your foal you will get a halter and a lead and the antiparasitic oral gel Equimax.«

September 4 - 6, 2009, Crazy and Springy have been showed to represent our ranch at the international horse exhibition Kone v akci in Pardubice.

August 22, Toricon Cernovodsky pohar 2009 - cast your eye over... Link to YouTube

You can find more information about the new Czech Horse Emergency in section Links.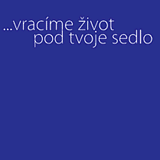 AHR Crazy Day had a share at Appa Show 2009. You can look at pictures in Photogallery - section Competitions.

The storm water has demaged everything all around, but we had just one problem - on Indian Meadow, where our horses used to be on pasture. You can look at photogallery - ranch.

The stallion Crazy Legs Luck is staying in Marianske Lazne till the end of July. Breeding is available there.

New pictures in our photogallery - section Competitions. Pictures was taken by Misha Vrbova.

We are very apologized, but the e-mail address info@appaloosas.cz is still non-functional. If you want to contact us write to bo-fka@seznam.cz or into our guest book.

New 2009 foals for sale! Have a look into Horses For Sale section and into our photogallery.

And here is the first colt! Vicky has taken time, but on the other hand she coloured him well. He was born on April 22 at 9 o'clock AM.

Deli is finally a mother again. On April 10, 2009 she foaled a very nice and beautiful filly. Her coat is with no markings, but the time will show us what colorful creations are hidden now.

We are awaiting for new foals. They should be born now. The mares evidently enjoy their pregnancy. So, we have to wait up.
Our tip for a Christmas present - rope equipment (halters, reins etc.)! Find more in links.
We wish you Merry Christmas and a Happy New Year!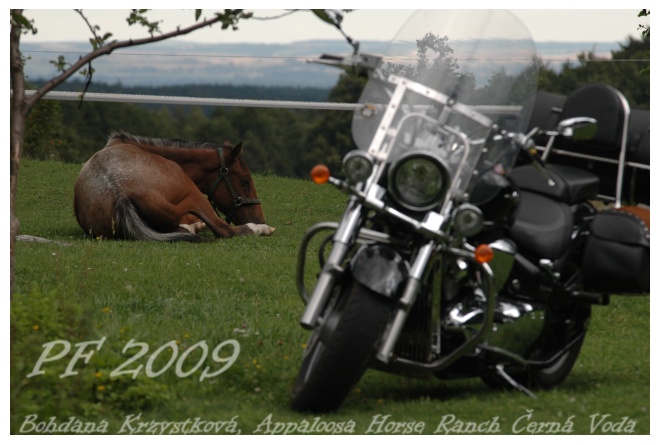 AHR Crazy Day went to her new home on November 16, 2008. It is the village Pátek near Louny.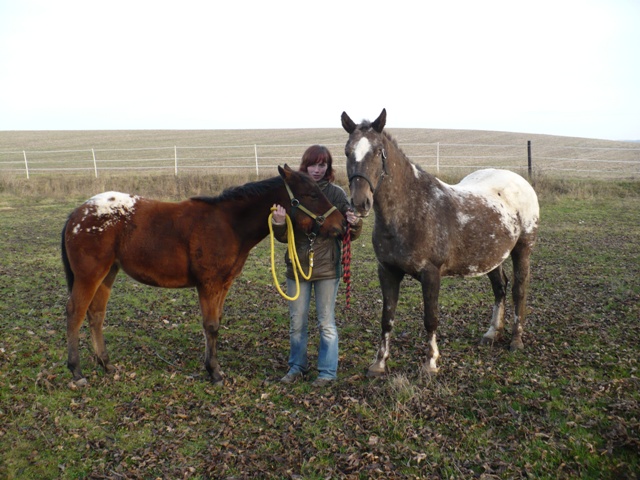 We took a part at the final riding action TREBUH 2008 on ECORANCH N.a.3. arena, Černá Voda. Day, Copy and Springy went non-classic trail discipline.

There is a new offer in the section Horses for sale.

We are preparing for another international horse exhibition and trade fair. This time it will be in Lysá nad Labem,
Czech Rep., on September 19-21, 2008.

You could see us participating at the international horse exhibition Koně v akci 2008 in Pardubice race-course,
Czech Rep., on September 5-7, 2008.

August 10, 2008 - we took a part in Middle European Cup 2008 in Karpacz, Poland. Bohdana Krzystková and her stallion Crazy Legs Luck won together with René and Karla Gabriels the first place in Team Penning.

August 23, 2008 - Steelcom Trophy 2008 - the nomination for Czech Championship of western riding, takes place on ECORANCH N.A.3 arena in Cerna Voda

We participated on Czech Appaloosa Show 2008 on July 19-20, which took place in Nova Amerika nr Jaromer.